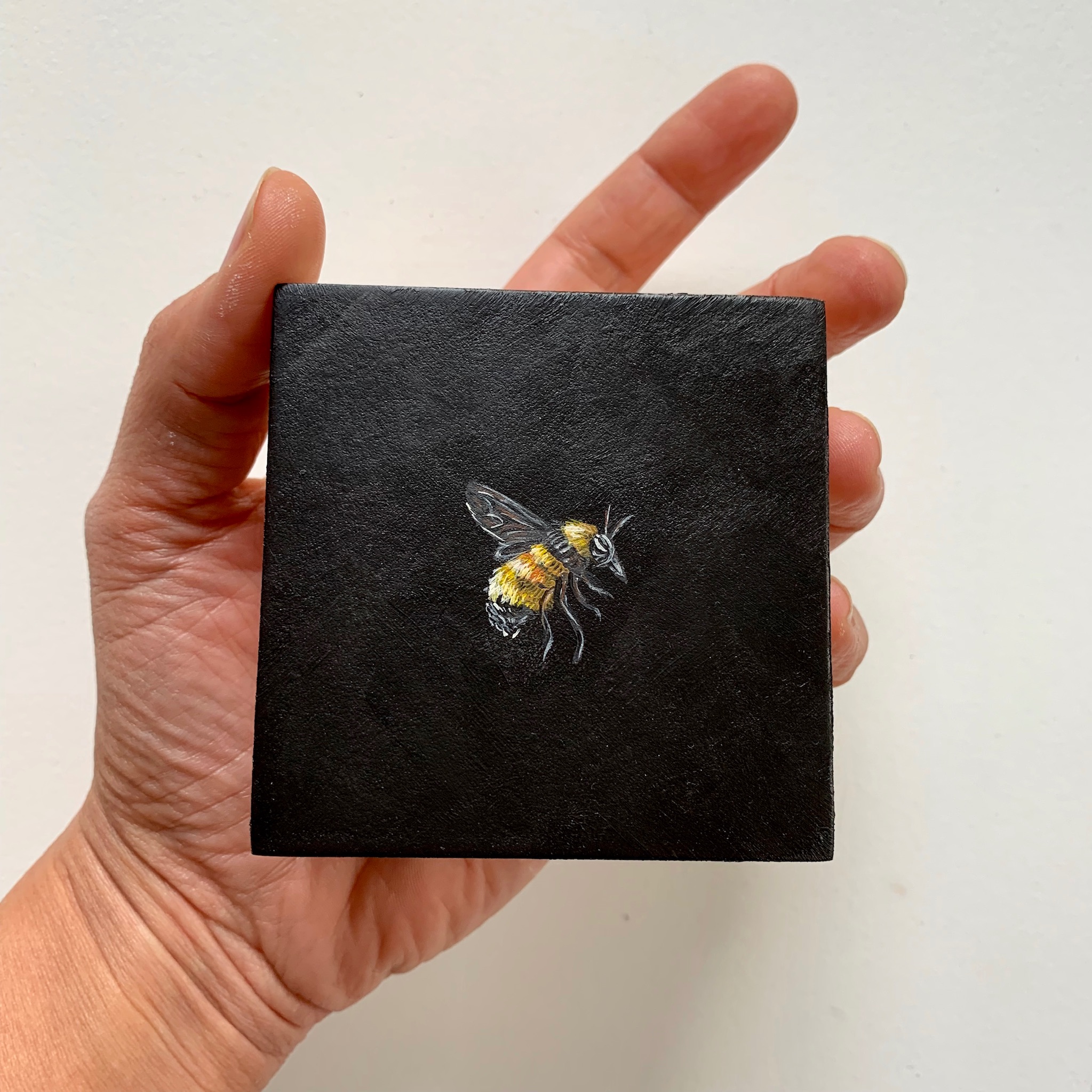 Looking for a way to show your honey some love & help Endangered, Threatened & Species of Greatest Conservation Need (SGCN) this holiday season?
Think Mini-Painting!
This season I am creating a series of mini American bumblebee (Bombus pensylvanicus - SGCN) paintings and a portion of the proceeds will benefit Texas SGCN! Your original painting will be a win for the bees, and a win for your sweet loved-one!
ABOUT AMERICAN BUMBLEBEES
There are nine bumblebee species are present in Texas.
Most Texas' native bees are solitary, though the American bumblebee has a social structure more like honey bees with a queen, male drones & female workers. However, bumblebee colonies are much smaller than the honeybee's. A honeybee colony can have tens of thousands, while bumblebee colonies are usually no more than a few hundred.
Bumblebees are an efficient and important group of insect pollinators that provide sustaining pollination services for both agricultural and biological communities.Infact, lady bumble bees' large size allows them to carry much more pollen than the average honeybee. They carry these large quantities of pollen in rounded pollen baskets, on their hind legs.
Many bumble bee species are currently in decline throughout the United States.The Texas Parks and Wildlife Department has classified three kinds of bumble bees in the category of"Species of greatest conservation need" under the Texas Conservation Action Plan: the American bumble bee (Bombus pensylvanicus); its close relative, the Sonoran bumble bee (Bombus pensylvanicus sonorus); and the variable cuckoo bumble bee (Bombus variabilis).
HOW YOU CAN HELP:
SHOP: 5% of the sale of THESE ORIGINAL WORKS will be donated to TPWD Nongame Fund
You can help by writing your U.S. HouseRepresentative to urge them toco-sponsor the Recovering America'sWildlife Act (RAWA), H.R.3742 and planting native flowers!
Source: