Hike the Threatened Texas Art Walk!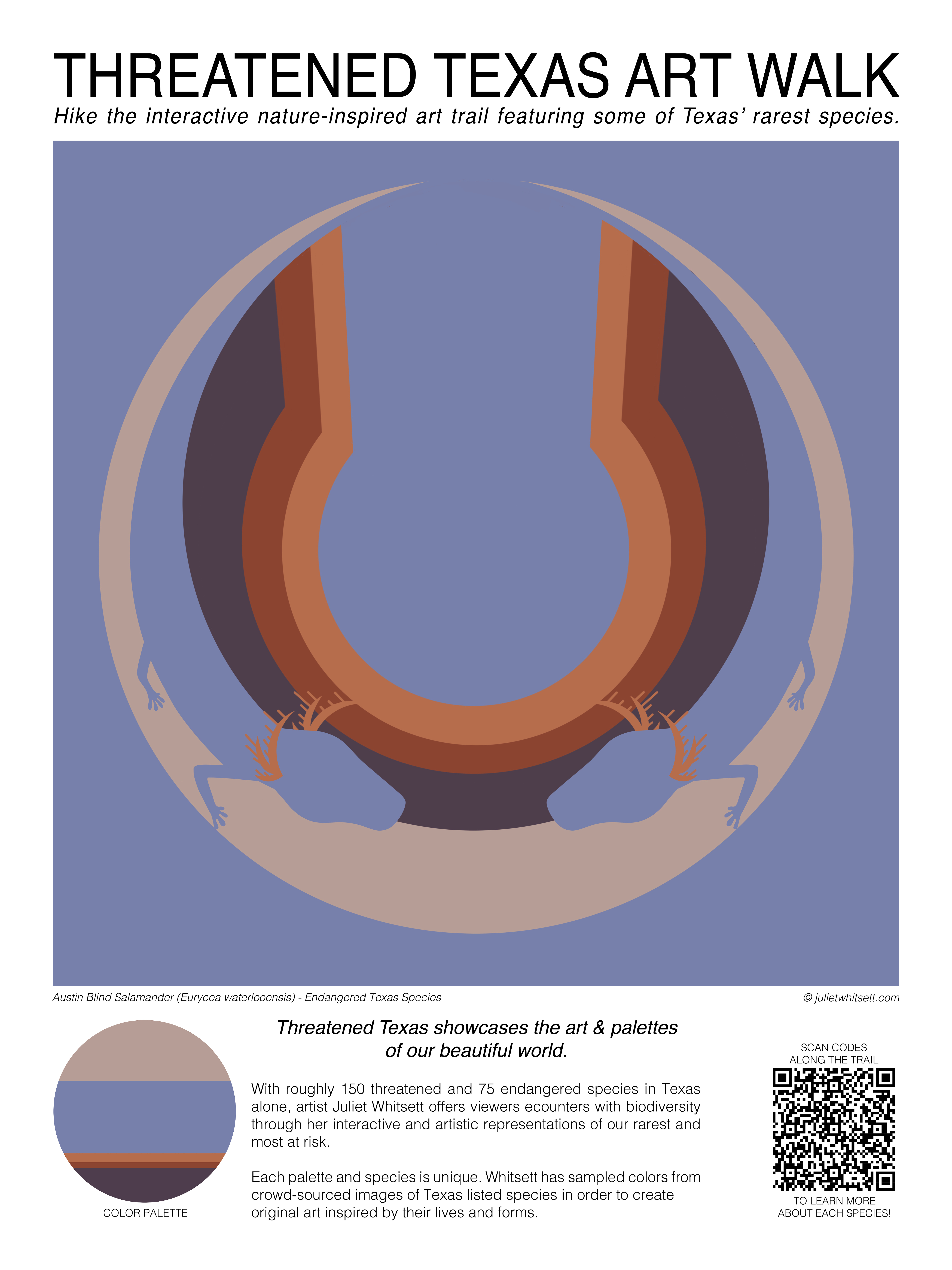 This fall, St. Mark's (2128 Barton Hills Drive) is generously sponsoring my Threatened Texas Art Walk and inviting you to hike some of their beautiful trails and learn about 15 of Texas' rarest species. Along the trail you will find 15 QR code activated endangered and threatened species artworks installed.
Yes, you can learn about about the Barton Springs Salamander and the Austin Bind Salamander and yes, you can walk to to their habitat at Barton Springs Pool from there, and yes I've done it!.
This is a free art walk that is open to the public. All are welcome! Just wander on back.
Directions to the Threatened Texas Art Walk:
Juuust upcreek from endangered #austinblindsalamanders
At the intersection of Barton Skyway and Barton Hills Drive.
Behind Saint Mark's Austin.
In the back of the parking lot there's a beautiful meditation trail that connects to the Barton Creek Greenbelt.
CHECK OUT JULIET'S THREATENED TEXAS SERIES
______________________
As an artist, art educator, and environmental educator, Whitsett is interested in the intersection of community and creativity. She sees ecological connection among species as integral to Earth's comprehensive community. Committed to listening to scientific wisdom and inspired by the rise of the global youth climate movement, she feels compelled to use her skills to represent some of our most threatened species – those who have no means of advocating for themselves.⁠
Her current series, "Threatened Texas," addresses threatened, endangered, and Species of Greatest Conservation Need (SGCN) in Texas. Whitsett samples colors from actual images of Texas' threatened species to create original digitally-based art inspired by their unique palettes.