Hike the Threatened Texas Art Walk!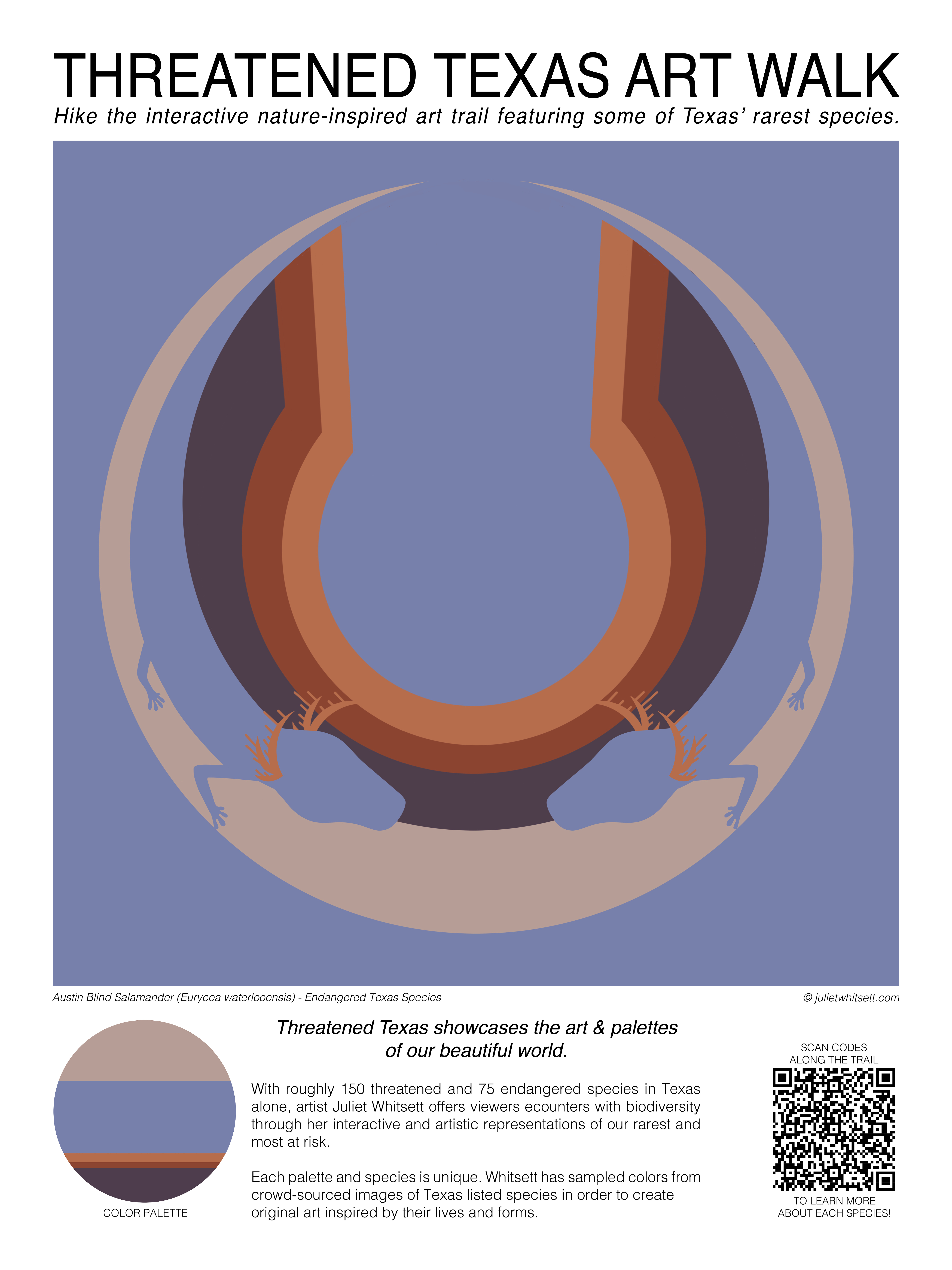 This fall, St. Mark's (2128 Barton Hills Drive) is generously sponsoring my Threatened Texas Art Walk and inviting you to hike some of their beautiful trails and learn about 15 of Texas' rarest species. Along the trail you will find 15 QR code activated endangered and threatened species artworks installed.
Learn about about the Barton Springs Salamander and the Austin Bind Salamander and if you are ambitions, walk to to their habitat at Barton Springs Pool from there. I've done it!
This is a free art walk that is open to the public. All are welcome!
2128 Barton Hills Drive, Austin, TX 78704
Directions to the Threatened Texas Art Walk:
Located upcreek from the endangered Austin Blind Salamanders*
At the intersection of Barton Skyway and Barton Hills Drive. 2128 Barton Hills Drive, Austin, TX 78704
Behind Saint Mark's Austin.
In the back of the parking lot there's a beautiful meditation trail that connects to the Barton Creek Greenbelt.
* "In 1837, the village of Waterloo was founded on the banks of the Colorado River. The name Waterloo would later change to Austin becoming the capital of The Republic of Texas. Biologist adopted Austin's former epithet in the description and scientific name of the Austin blind salamander (Eurycea waterlooensis). This species occupies the deep regions of the Edwards Aquifer, and is only observed at a couple of localities overlying fissures in the limestone where the Austin blind salamander is occasionally ejected from its deeper residence. The Austin blind salamander is one of two recognized species (the other being E. rathbuni) within the sub-clade Typhlomolge, best known for their obligate subterranean life history and fascinating characteristics (e.g. highly reduced eyes and pigmentation, and broad heads) attributed to their evolution in complete darkness."
Information generously provided by -Ruben Tovar, Evolutionary Developmental Biologist
CHECK OUT JULIET'S THREATENED TEXAS SERIES
______________________
As an artist, art educator, and environmental educator, Whitsett is interested in the intersection of community and creativity. She sees ecological connection among species as integral to Earth's comprehensive community. Committed to listening to scientific wisdom and inspired by the rise of the global youth climate movement, she feels compelled to use her skills to represent some of our most threatened species – those who have no means of advocating for themselves.⁠
Her current series, "Threatened Texas," addresses threatened, endangered, and Species of Greatest Conservation Need (SGCN) in Texas. Whitsett samples colors from actual images of Texas' threatened species to create original digitally-based art inspired by their unique palettes.