WELCOME TO THE AUDIO WILD:
Hike with the Golden-cheeked Warbler
by Juliet Whitsett
Juliet Whitsett Art AUDIO WILD: Hike with a Golden-Cheeked Warbler Expert
Click on the link above to engage in a virtual encounter with the Golden-Cheeked Warbler, a federally listed endangered species.
THIS AUDIO WILD piece is a site-based audio artwork by Juliet Whitsett & best experienced in the beginning of a hike at Wild Basin Wilderness Preserve, in Austin, TX or any Golden-cheeked Warbler habitat.
______________________________________________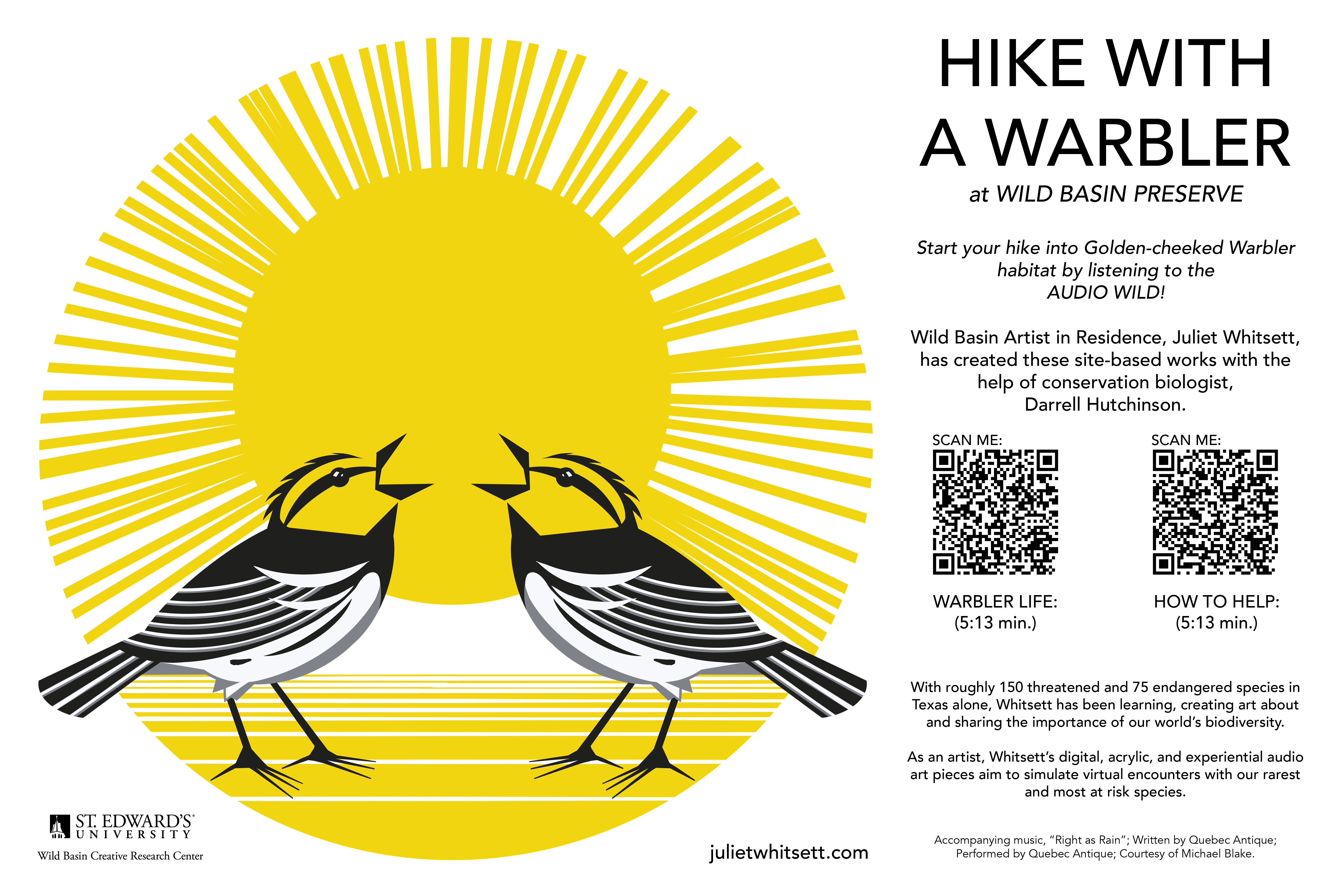 © Juliet Whitsett |Social: @juliet_whitsett_art
______________________________________________
AUDIO WILD is a curated audio experience by Juliet Whitsett, and sourced from interview excerpts with conservation biologist, Darrell Hutchinson as he shares insights about this endangered species.
With roughly ~150 threatened & ~66 endangered species in Texas alone, Juliet Whitsett has been learning, creating art about and sharing the importance of our world's biodiversity. As an artist, her digital, acrylic, and experiential audio art pieces aim to simulate virtual encounters with our rarest and most at risk species.
Accompanying music, " Right as Rain; Written by Quebec Antique; Performed by Quebec Antique; Courtesy of Michael Blake." @quebecantique
SHOP this art: HERE
SPECIES INFO:
The Endangered Golden-cheeked Warbler is a Central-Texas gem. If you ever have the opportunity to see or hear one of these birds, you know you are in the presence of a uniquely native Texan. It ONLY breeds exclusively in Texas, specifically using nesting materials harvested from Ashe juniper bark - Juniperus ashei (cedar trees).
COLOR PALETTE SAMPLED FROM IMAGES OF THE GOLDEN-CHEEKED WARBLER:
THREATENED TEXAS SERIES:
There are 148 Threatened Species in Texas and ~66 Endangered Species. Each palette & species is unique. I have sampled colors from images of actual Texas Threatened Species and created original art inspired by each group.⁠⁠⁠⁠⁠⁠⁠⁠⁠⁠ ⁠⁠⁠⁠⁠
5% of the profits from this series enthusiastically goes to help Threatened & Endangered Species.
SOURCES:
https://www.fws.gov/refuge/Balcones_Canyonlands/GC...
https://txtbba.tamu.edu/species-accounts/golden-ch...
https://www.allaboutbirds.org/guide/Golden-cheeked...
youtube.com/watch?v=RPkCGvyVxrg